MTFI National Level Essay Competition 2014 titled " Importance of Manipulative Physiotherapy in Present Era" for BPT 3rd Year, Final Year and Interns. 1st Prize: Rs. 15,000, 2nd Prize: Rs.10,000, 3rd Prize: Rs.5,000.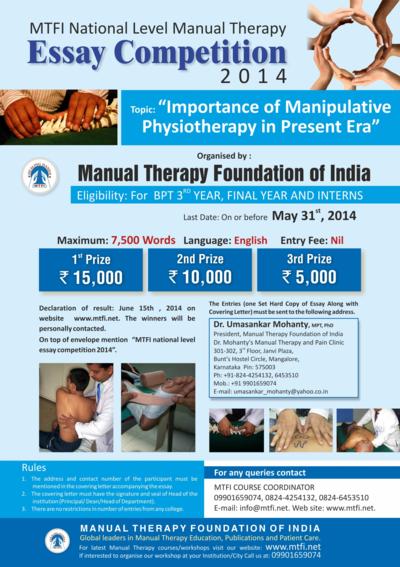 (Click for enlarged view)

Latest book of Prof.Mohanty titled Manual Therapy of the Pelvic Complex is released. The book is having awe-inspiring response from readers. For details see the home page.

MTFI is organizing numerous Manual Therapy and Taping Courses in 2012 and 2013 at Ahmedabad, Bangalore, Bhopal, Bhubaneswar, Cairo, Colombo, Coimbatore, Dehradun, Dhaka, Dubai, Guwahati, Hyderabad, Kolkata, Kuala Lumpur, Lucknow, Manila, Mangalore, Mumbai, New Delhi, Pune, Surat, Toronto, Thiruvananthapuram, and Vadodara. For details visit "Programme schedule" placed under heading "Courses" in the site.

MTFI is presently offering Life Membership for the Physios having attended minimum of 16 Hours MTFI sponsored Workshop/ Training Programme/ Conference.For details visit sub heading "Membership MTFI" placed under heading "About Us" in the site.

MTFI has started with International Clinical Fellowship Programmes for 3 weeks for details visit sub heading "Clinical Fellowship" in section "About us" in this site.

To help the Corporate Sector work better MTFI has started MTFI Ergonomic Consultancy. To see the details click the " Ergonomic Consultancy" placed under heading "About Us" in the site.

Manual Therapy treatments are available at Dr.Mohanty's Manual Therapy and Pain Clinic and MTFI Manual Therapy and Pain Clinics. For details about the clinics and conditions treated visit " About our Clinics" placed under heading "About Us" in the site.